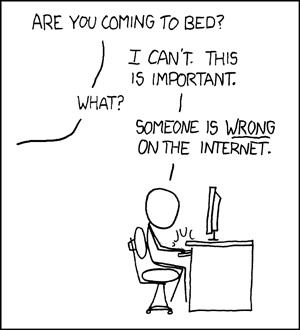 The internet holds countless opportunities for disagreement. Bless it.
Watch in amazement as your buttons are pushed by wrong people all over the world.
Pinched. Tightened. Wound up.
Take a breath.
Who will be served by your outrage?
The world needs people who care – people who are willing to stand up.
But!
Direct engagement is not always useful.
I know, sweetheart. You want to do something, say something, right the wrong, set 'em straight.
Sometimes that's the thing to do.
Most times, all that big energy is better directed elsewhere.
Wash out your mouth with hope.
Amplify your love. Go make your art. Build stuff. For every grrr you read, link to ten hell yeahs. Point your world at what you do believe in.
Pollyanna? Head in the sand?
No, honey. This is discernment. Selective engagement.
In lieu of locking horns in small places, you might also like to:
Look for the hook. An oversized emotional response holds useful clues. Engage with your stuff. Let anger uncover your own concealed weapons. Dig deep.
Exercise your right to leave. Unsubscribe. Unfollow. Change the channel. Change the subject. Social media is not an endurance event.
Energy. Attention. Time.
These things are powerful. Fragile, too.
And when the lights come on at the end of the night, even the best arm wrestling match is still just two dudes in a bar.